Indonesia International Furniture Expo at Kemayoran Jakarta
Indonesia Furniture Expo (IFEX) 2023 will be held in March at the Jakarta International Furniture Expo from 9 to 12 March 2023, Indonesia, showcasing the latest and innovative furniture products from various furniture manufacturers and suppliers in Indonesia. One of the companies that will be attending the IFEX Indonesia furniture expo 2023 is Yudhistira, a leading furniture company in Indonesia that has been established since 1996.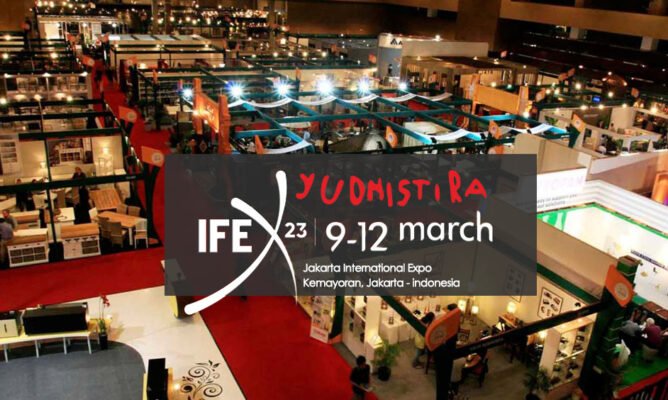 Yudhistira will display its newest products at IFEX 2023, including a collection of indoor and outdoor furniture designed in a modern and elegant style. The collection will feature natural materials such as wood, rattan, and stone combined with a minimalist and elegant design.
Visit Yudhistira at Indonesia IFEX 2023 in Hall A.60
All are welcome to visit us at Indonesia Furniture Expo on 9 – 12 March 2023 at Jakarta International Expo, Kemayoran – Jakarta, Indonesia
Jakarta IFEX Indonesia Furniture Exhibition
Indonesia IFEX, or Indonesia Furniture Exhibition, is an annual trade show for the furniture industry held in Jakarta, Indonesia. The event is organized by the Association of Indonesian Furniture and Handicraft Industry (HIMKI) and is one of the largest furniture exhibitions in Southeast Asia.
Indonesia IFEX showcases the latest designs and trends in the furniture industry, as well as innovative products and technology from local and international manufacturers. The exhibition also provides a platform for industry players to network and conduct business, as well as gain insights into the Indonesian furniture market.
The event usually takes place over several days and features various activities such as seminars, product showcases, and business matchmaking sessions. IFEX Jakarta attracts a diverse range of attendees, including manufacturers, distributors, retailers, designers, architects, and buyers from around the world.
Overall, IFEX is an important event for the Indonesian furniture industry and a key platform for promoting the country's furniture exports and supporting the growth of the sector.
Easy Steps to Visit IFEX Indonesia!
IFEX 2023 is Approaching, How to Visit with Ease?
Elevate your visit to IFEX 2023 in Jakarta this March by saving your time and making it easier. Here we have compiled easy steps for you:
Register Your Visit on Prior
Avoid queuing at the Ticket Booth during the show days by Pre-Registering on the website. Complete the required data, verify your email, fill out the form, and you are good to go! Plan your visit in advance, from wherever, whenever.
Apply for an e-VoA if You Are Eligible
Electronic Visa on Arrival is a method that allows you to complete your visa application online, prior to your arrival in Indonesia. With e-VoA you may avoid the long queues at the airport and save time for your visit to Indonesia.
The Visa will allow you to visit Indonesia for 30 days for the purpose of Tourism, Government Visits, Business Meetings, Goods Purchasing, and Transit. For further information, visit Molina.imigrasi.go.id
Shuttle Bus Service to Ease Your Mobility
Free Shuttle Bus Service is available to help you travel from Soekarno Hatta International Airport Terminal 3 → IFEX Venue →IFEX Official Hotels. Be sure to capture the schedule so you won't miss it!
Rules & Etiquette of Visiting; Things to Notice
For our mutual comfort, there are several Rules & Etiquette that everyone is required to comply with. Be mindful to follow each point for the best visiting experience! You may enter the exhibition through several gates, which are:

West Entrance – Hall B3 & C3
East Entrance – Hall D2
North Entrance – Trade Mart Building*
*North Entrance is strictly for ID Badge holders